Earth Virtualization Engines seek to better understand the climate crisis by creating a digital twin of the Earth. Nvidia CEO Jensen Huang spoke at a conference about the company's contribution to the initiative.
Climate researchers from many countries are working on an ambitious project: creating a digital twin of the Earth that will combine vast amounts of climate and other data. The goal is to help humanity understand and adapt to climate change.
The Earth Virtualization Engines (EVE) initiative requires international collaboration because of the massive computing requirements. The digital twin, supported by Nvidia's Earth 2 initiative, is expected to produce petabytes of data every day, allowing users to monitor climate information to better adapt. Climate researcher Peter Bauer plans to bring together supercomputers from Germany, Switzerland, other EU countries, Japan, and the United States for the project. The model is intended to be interactive and accurate, using AI to enhance the interactivity of the users.
Kilometer-scale climate simulations
Jensen Huang, CEO of NVIDIA, emphasized the importance of AI and accelerated computing for breakthroughs in climate research during his keynote address at the Earth Virtualization Engines (EVE) Initiative Berlin Summit. Huang highlighted three "miracles" that are necessary for climate researchers to achieve their goals:
Climate simulation in a short time and at high resolution, such as a few square kilometers.
The precomputation of huge amounts of data.
The interactive visualization of all this data to reach policymakers and industry.
Key technologies are artificial intelligence and high-performance computing to achieve high resolution of climate conditions down to one kilometer, allowing detailed study of climate risks. Advances in Earth simulation have shown that higher resolution can reduce the bias of simulations.
He said his company is helping with hardware and open-source frameworks such as Modulus, which specializes in physics-based AI models. For example, the FourCastNet forecast model, a data-driven global weather prediction model, was able to produce 21-day weather forecasts in one-tenth the time and with 1,000 times less energy, Jensen said.
He also showed a high-resolution interactive visualization of climate data on a global scale. The ability to interactively visualize such data with Nvidia's Omniverse and create a "digital twin" of the Earth with Earth-2 is important to "put it in the hands of policymakers, businesses, companies, and researchers," he said.
EVE researchers hope to gain new insights
Huang emphasized that EVE's mission is to push the boundaries of computing technology for climate modeling and explore new ways to study the state of the climate at global and local scales. This, he said, is now possible with a new generation of supercomputers coming online.
Recommendation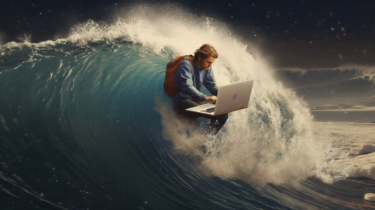 According to EVE researchers, successful implementation would accelerate scientific discovery and digital innovation, lead to new discoveries by breaking down barriers between research disciplines, and revolutionize our ability to inform and engage with users on a global scale.
The conference runs through July 07. More information about EVE is available in the EVE concept paper.