OpenAI seems to be preparing another update for ChatGPT. It could be the already announced business version.
The Reddit user "kocham_psy" has caught a first glimpse of the interface of a possible new version of ChatGPT in the source code of ChatGPT. He claims to have used a script that tricks the site into thinking his account has access to all functions. In this way, he discovered the recently introduced chat-sharing feature a week before its official release.
The leaked screenshot shows a new "workspace", a profile where you can enter information that ChatGPT should remember by default, and the ability to upload files.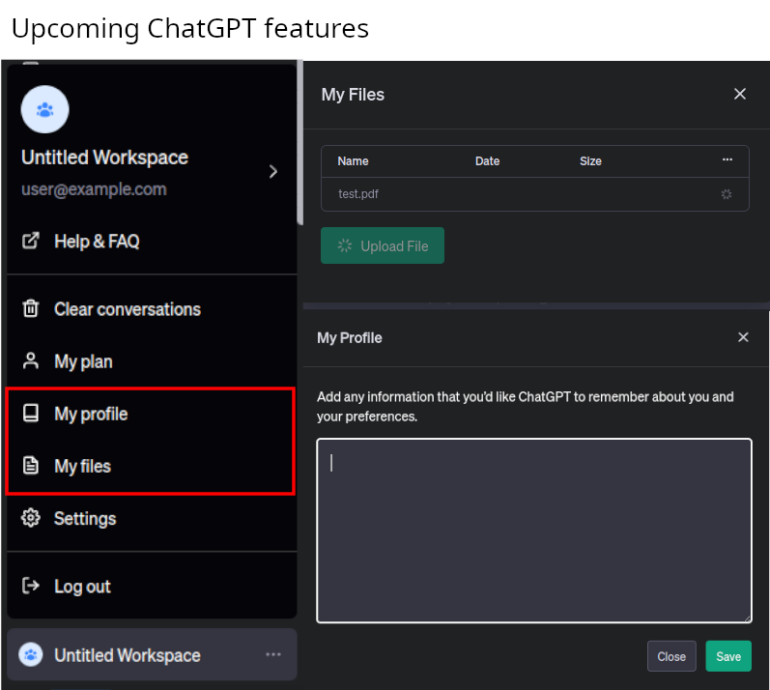 This could be an early version of OpenAI's announced business version for ChatGPT. OpenAI promised this variant at the end of April 2023 as part of a rollout of new privacy measures "in the coming weeks" – so the timing would fit.
ChatGPT Business is supposed to be more privacy-friendly and will no longer use user data to train models by default. However, unlike the Pro version, chat history will be preserved.
System prompts and chattable documents for ChatGPT?
Further details about the business version have not yet been revealed by OpenAI, but the screenshot shows that it might be possible to share different workspaces, ie, workgroups, with colleagues.
The "Profile" area could pre-prompt ChatGPT, similar to the system prompt of the GPT-4 API. For example, you could put your work role there ("social media manager", "editor", etc.) so you don't have to include it in every chat. Of course, it might also be possible to have certain style preferences that ChatGPT would respect by default. This would contribute to the customization that OpenAI CEO Sam Altman announced for ChatGPT in mid-February.
The file upload could be used to make documents chat-enabled, eg to generate summaries or search for information. There are chatbot examples, especially in the open-source movement, such as AnythingLLM, that already offer this useful feature.
Microsoft is also planning a business version of ChatGPT that will run on its own servers, but will reportedly cost ten times as much as the regular ChatGPT.
Recommendation