PwC is partnering with OpenAI to offer AI-generated advice to clients on tax, legal and HR matters, with the aim of reducing costs and increasing productivity.
The collaboration makes PwC the first of the Big Four accounting firms to work with OpenAI, Bloomberg reports. The AI system will be used for tasks such as conducting due diligence, identifying compliance issues, and approving deals.
The system, which is reportedly not based on ChatGPT, is already behaving like a 25-year-old partner, according to Bivek Sharma, PwC's COO for tax, legal and people. The partnership also includes AI startup Harvey, which is backed by OpenAI.
The AI system is being tested and trained by about 650 employees in the U.K., with plans to expand access to 10,000 employees in more than 50 countries in the coming months. PwC said the partnership will not result in any job cuts in the short term.
AI could be the great skill leveler for consultants, study shows
A recent study may have influenced PwC's decision to undertake a project of this magnitude: Consultants using GPT-4 AI outperformed their non-AI counterparts, completing 12.2% more tasks, 40% better, and 25.1% faster, according to a study by the Boston Consulting Group and a group of academic researchers.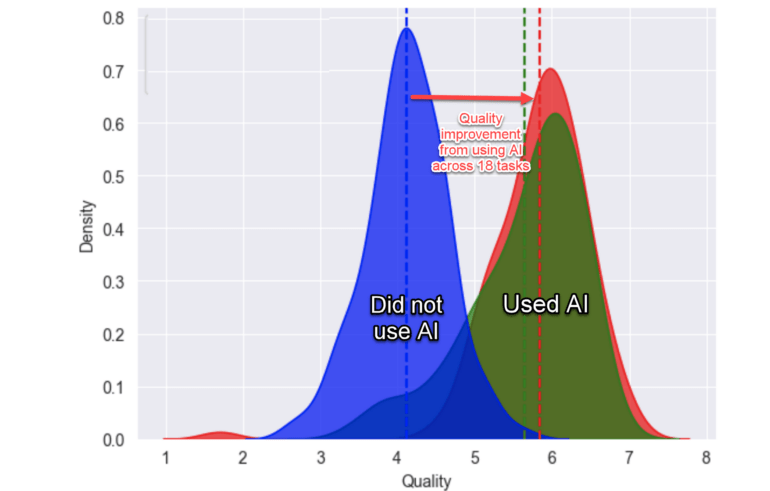 The study also found that lower-performing consultants benefited the most from the use of AI, with a 43% increase in performance, which is perhaps the more interesting finding. The team compared 18 typical real-world consulting tasks for a fictional shoe company.
Two usage patterns emerged: consultants who outsource tasks to AI ("centaurs"), and those who integrate AI into their workflow ("cyborgs"). However, the research team cautioned against blindly deploying AI, as it can fail at certain tasks, resulting in nearly 25% worse performance on tasks outside GPT-4's capabilities.
The study was conducted by The Boston Consulting Group in collaboration with researchers from Harvard Business School, MIT Sloan, Warwick Business School, and the Wharton School. It analyzed the work of 758 randomly selected Boston Consulting Group consultants. Some were allowed to use GPT-4, while others worked without AI. Consultants using AI had access to the generally available GPT-4 via an API, without any special prompting or fine-tuning.